More Reviews
Back to product




August 27, 2010
Reviewer: Kimichan
Yuuhi's dreams of football glory are as likely to happen as England winning the World Cup, but he likes to dream big. Like most young lads his age though, other types of recreational activities get brought to his attention, distracting him from his goal. He doesn't like the tricks and pressures the bullies put on others, and he makes it his business to score big against them. His gentle naivete and lack of any sort of romantic experience, emotionally or physically, make this a really cute read, as he grapples with what he thinks is going on around him, and what actually is. When he does realise, the motivations behind escape him, causing him to make rash snap judgements that he has to reconsider along the line as he grows up a little more. The list of characters are varied, and while they are stock character types, they are used to great effect. It is precisely that they are stock characters, that makes it so funny as Yuuhi is so naïve, he doesn't recognise the personalities for what they are, and falls into trouble one way or another along the way. He has other talents tough, some quite unintentional. His trusting nature and sweet expression bail him out of one sticky situation with him none the wiser, while his fast reflexes trained on the soccer field aid him in others. With his sunny disposition yet quick to retort tongue, he rings true to many a 15 year old boy you might actually know, but without all the Kevin-like angst. It is a light read, not too taxing, filled with rather naughty chuckles.
Current Promotion:
Akadot's Guest Check-out is now Open! Tell your friends! ヽ(´Д`)人(´Д`)ノ〜♪
*Coupons cannot be applied to guest check out.

----------------------------
FREE SHIPPING over $60

(only within United States, excludes Alaska and Hawaii)
* Items that are discounted 70% off or more do not count toward your free shipping total.
----------------------------
Just licensed by DMP!!
Title: DEADLOCK Vol.1
Author: Saki Aida, Yuh Takashina (英田サキ, 高階佑)
Publisher: Tokuma Shoten (徳間書店)
----------------------------
Visit us at
Follow us on Instagram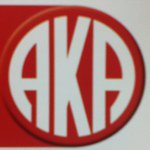 @akadot