More Reviews
Back to product





October 27, 2010
Reviewer: Kimi-Chan
Take two totally gorgeous guys, sprinkle them with supernatural mojo and put them in a book about vampires and a human who loves them and what do you get? No, not THAT book! These guys may only prefer to only come out in twilight, but from the very first page, you know this is no teen fantasy romance. It is Boy's Love, and a pretty hardcore one at that as the very first page opens to a one page prologue depicting a young man on all fours, receiving. You know this is not going to be ordinary smut however, when his thoughts are "this is not the colour of the liquid I want..." Yikes, what have I gotten myself into? When I saw the mangaka was Mika Sadahiro, I prepared myself. Probably best known to fans of the genre of the creator of the hard core prison romance, Under Grand Hotel, I knew her reputation for graphic depictions of sex and violence, often at the same time. The action is not the driving force here though; it is the characters' emotional and psychological development which propels the story forward, leading where it does in a natural progression that doesn't feel forced or clichéd at all, despite covering ancient ground as it were with some traditional vampire lore. One develops an empathy for the tragic romantic love King feels for J as well as the parental like love tinged with regret he feels for Ace. J is a bit harder to like at first. He is brash, and one cannot help but feel that perhaps his love for King is bound by the Pathos he feeds upon. Barely 18 when he was turned, he never experienced the love of family or a mortal lover before fate brought him before King during his dying moments. He is as impetuous and naïve in many of the same ways Ace is, but arrogant enough to not not realise it the way King does. Ace is a likeable, confused kid going through puberty with an extra burden, knowing his family are of the undead, being separated from them by distance, time, and species, and haunted by the taste of the Pathos. Their emotions come across clearly not only through her well chosen prose, which has been carefully translated with skill, but also through her evocative use of body language. Her characters don't just stand about, glaring or having tears run down their faces; they move, twist and contort in realistic ways, with suitable expressions beautifully etched onto their faces. The drape and line of the clothing is astounding, with a real eye for classic fashion that ties the eternal nature of the two men to the modern era with flair. Far from sylph like, the well defined and toned male bodies ooze a sensuality not unfamiliar to fans of modern vampire fiction, and the beautifully manly faces mark a departure from the usual pretty boy imagery. Forget Twilight, this is more Interview if Lestat and Louis had been a couple and the child Claudia a boy left human to grow into puberty. The roiling emotions, blatant sensuality, and freely flowing blood make this much more than just another vampire romance story. It is ultimately a tale of the human condition, where passion meets pathos.





September 30, 2010
Reviewer: Niki, a hardcore yaoi fangirl
Pathos is too great. Sadahiro Mika is a hardcore yaoi goddess. King and Jay are vampires who decided to raise a human boy together. Bad idea... The angst levels run high in Pathos. Ace is in love with Jay, Jay is attracted to Ace but shackled to King and feels some inner turmoil and guilt about being drawn to Ace. Its complicated and sexy!
Current Promotion:
Akadot's Guest Check-out is now Open! Tell your friends! ヽ(´Д`)人(´Д`)ノ〜♪
*Coupons cannot be applied to guest check out.

----------------------------
FREE SHIPPING over $60

(only within United States, excludes Alaska and Hawaii)
* Items that are discounted 70% off or more do not count toward your free shipping total.
----------------------------
Just licensed by DMP!!
Title: DEADLOCK Vol.1
Author: Saki Aida, Yuh Takashina (英田サキ, 高階佑)
Publisher: Tokuma Shoten (徳間書店)
----------------------------
Visit us at
Follow us on Instagram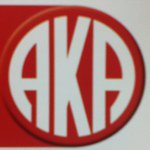 @akadot