More Reviews
Back to product





February 23, 2012
Reviewer: Jennifer \"Kyuutatsu\" Bauters
While originally I had read this online, when it got licensed I had to buy the first volume. I bought vol. 1 the day it was available on Akadot! I just couldn't put this series down! While I've never been much for kids being mixed into yaoi, I found this yaoi to be so much more heartwarming than expected! The story line draws you in, and it's as if you can see the world entirely through their eyes. You can feel how feelings slowly develop and eventually come to fruition. Not only between Oosawa and Yoshi, but between the two and Chizu as well. Instead of being a minor side character that kind of gets left out, she becomes a integrated part of the plot and the eventual family. Not only did you come to love the two guys, you came to love the three as a family. Adorable Chizu is just too cute to deny, and while the focus of the manga is the relationship between Oosawa and Yoshi. The father-daughter relationship budding between Chizu and Yoshi is just as predomient and adorable! I would absolutely recommend this manga to anyone that asked! I hope June will license more of Asou Kai's work in the future =) Namely "A place for 1/2 Rent"!
Current Promotion:
Akadot's Guest Check-out is now Open! Tell your friends! ヽ(´Д`)人(´Д`)ノ〜♪
*Coupons cannot be applied to guest check out.

----------------------------
FREE SHIPPING over $60

(only within United States, excludes Alaska and Hawaii)
* Items that are discounted 70% off or more do not count toward your free shipping total.
----------------------------
Just licensed by DMP!!
Title: DEADLOCK Vol.1
Author: Saki Aida, Yuh Takashina (英田サキ, 高階佑)
Publisher: Tokuma Shoten (徳間書店)
----------------------------
Visit us at
Follow us on Instagram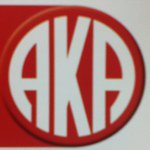 @akadot